Walt Ratchford
Walt Ratchford
Chula Vista, Riverside, Winder


I started at Riverside in 1956 and transferred to Chula Vista in 1965, worked at Winder for four months in 1976 and went back to Chula Vista transferred to Riverside in 1980 and back to Chula Vista in 1985 and retired in 1988.

DC-10 Conical Nozzle
Another fireman job. In 1977 Jack Brenan the Rohr program manager conceived a plan to replace the steel welded turbine thrust reverser on the DC-10 with an aluminum conical nozzle. This reduced the weight of the plane by 1,000 lbs. The project was in trouble because they couldn't make two parts. I was put In charge of the program and made the parts. On the first installation of the nozzles for American Airlines at Los Angeles airport, I rented a truck to take the assemblies to Los Angeles and assisted the mechanics in installing the assemblies. I also did this at United and Delta. Jack was appreciative of what I had done and promised me a trip to England to replace the turbine thrust reversers on Freddy Lakers DC-10s. We stayed at the Copthorne hotel in Hurly Surly. I didn't have to do any work; Laker's mechanics were very good. It was a nice two weeks' vacation. Jack took me to his favorite pub for lunch; there was an Irishman with a cart making sandwiches. Jack ordered two ham sandwiches and was telling the Irishman how to make them. He told him to put mustard on them. The Irishman told him, "I know how to make a proper sandwich; if you don't hush and sit down I'll not make you a sandwich." We were on Freddy Laker's dollar and doing some entertaining so we ate out and well every day.

Submitted January 5, 2014.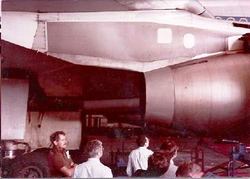 This was picture was taken in Freddy Laker's Hangar at Gatwick airport in England. Walt Ratchford on the left.
Opinions expressed on these pages are not necessarily those of the site owner.
All content is ©2006-2023 Rohr Aircraft Memories unless otherwise credited or a vintage reprint.
All rights reserved. Unauthorized use of material is prohibited.
Contact Sue with questions or comments. Website address: rohrmemories.com