Rohr Chula Vista Photographs

Rohr Chula Vista Photographs

We would love to see your Rohr photographs. If you would like to share them you can send them to sue@rohrmemories.com Thanks!!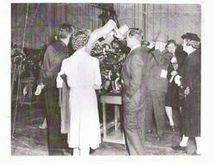 My grandfather worked for Rohr Aircraft during World War Two. This photo is of my Grandfather JACOB MOILANEN explaining how an A/C engine operates. Submitted by Travis A. Moilanen.
My Great Uncle GILBERT LLOYD BEAHAN worked in the Engineering & Development Division of Rohr Corporation from about 1944 until he retired in 1964. He called himself a "tool builder" and later referred to himself as a "retired Rohr patternmaker." According to the July 21, 1966 Chula Vista Star-News, Beahan said he was a "patternmaker (handling plastics), a researcher (developing plastic tools to withstand terrific pressures), and finally, a salvage sales supervisor." He was also a well known artist in Chula Vista. He passed away in September 1974. The article, Rohr Man's Weekend Home Project Builds Toward Retirement Goal, above is from the December 7, 1959 issue of ROHR NEWS. Submitted by Gary W. Beahan, July 10, 2010.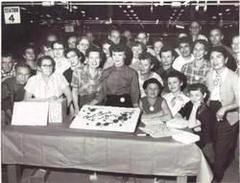 "Best Luck, Vi and John" Rohr Chula Vista circa 1952, work area, farewell party. JUANA ZAPATA (SANCHEZ) is in the third row, on the right, behind the lady with the plaid shirt, she is wearing glasses. Submitted by Juanita Hulu, 1/14/2011. In the back row the man in the middle (no glasses) is BUD GREYWACZ. Added 5/25/2011. Can you name any of the others in this photograph?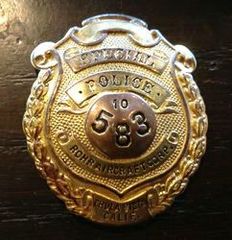 1930s Rohr Aircraft Corp. Special Police badge. Submitted by Mike Rich, July 7, 2013 mrichk9@hotmail.com

Guppy (MR-1). Wings from the Rohr Guppy (MR-1). This plane was built by Rohr as an experimental plane in the late 40s. Immediately after it's first test flight the pilot deemed it unsafe to fly and the project was consequently shelved. Shortly after that the Guppy went to the Balboa Air and Space Museum in San Diego. Unfortunately the museum went up in flames in the late seventies and numerous planes were destroyed and lost forever and this includes the MR-1. The fire evidently destroyed almost the whole Guppy but somehow the wings survived. Aside from the canvas being almost completely gone the wings are in near perfect shape. Submitted by Christopher Mudd, furnitureflipper@gmail.com, January 18, 2013.
Opinions expressed on these pages are not necessarily those of the site owner. All content is ©2006-2023 Rohr Aircraft Memories unless otherwise credited or a vintage reprint. All rights reserved. Unauthorized use of material is prohibited. Contact Sue with questions or comments. Website address: rohrmemories.com Last updated: 01-01-2023